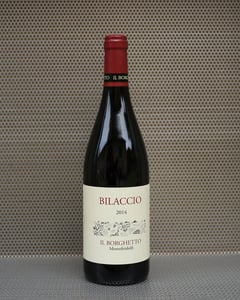 €

38.00
Bilaccio 2014 IGP Toscana
100% Sangiovese
18 mesi di invecchiamento in barriques francesi
4 mesi di affinamento in bottiglia.
Imbottigliato con sughero e screw cup nel Settembre 2016 Produzione: 3600 bottiglie
14 % alc.
Una volta che il Sangiovese ha invecchiato in botte per 18 mesi viene operata una prima selezione del vino proveniente dalle diverse particelle dei vigneti "La Collina" e "Il Borghetto". Bilaccio è espressione delle varie particelle di Sangiovese esistenti e riflette autenticamente la particolarità dei vigneti, dei processi naturali di vinificazione.
Il Bilaccio 2010 ha ricevuto l'Eccellenza della guida de L'Espresso "I vini d'Italia 2014" .
Bilaccio 2014 IGP Tuscany
100% Sangiovese
18 months in French barriques; 0% new oak
4 months bottle age prior to release
Bottled with cork and under screw-cup
Bottled September 2016
Production: 3600 standard bottles
14 % alc.
Once our Sangiovese has aged for at least 20 months, a first selection is made of wine made exclusively from grapes grown here, at Borghetto. The Sangiovese selected eventually becomes Bilaccio and arrives from all four corners of the estate.