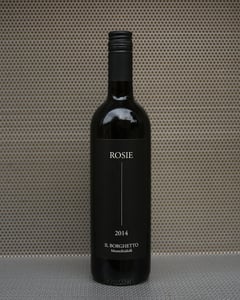 €

24.00
Rosie 2014 IGP Toscana
60% Merlot 40% Cabernet Sauvignon
18 mesi in botti francesi
4 mesi in bottiglia
Imbottigliato con screw cup nel Settembre 2016
Produzione: 900 bottiglie
14 % alc.
Oltre al Sangiovese, al Borghetto sono presenti alcuni piccoli appezzamenti di Cabernet Sauvignon. Con la selezione delle migliori uve di queste due varietà viene prodotto ROSIE.
Rosie 2014 IGP Tuscany
60%Merlot 40% Cabernet Sauvignon
18 months in French barriques; 0% new oak
Bottled under screw-cup Bottled September 2016
Production: 900 standard bottles
14 % alc.
Although our main focus at Borghetto is on Sangiovese, we are lucky to have some small vineyards of Cabernet Sauvignon. Rosie is a riserve wine, similar in idea to Clante, created from our very best Cabernet Sauvignon and Sangiovese.